Our Team Will Meet Your Every Need
And Design a Campaign Around YOU
Welcome to Business Development Institute, the last stop in your hunt for a professional quality website for your business.
We here at Business Development Institute bring over a decade of business website development experience, backed by custom-created proprietary software that will bring your company's website to new heights in Internet exposure for the specific consumer demographics you are looking to appeal to.
Staffed with a professional team of leading content writers, graphic designers, web developers, programmers, computer techs, and a committed customer service department, this staff will meet your project with enthusiasm and an industry-leading quality that will leave the competition long behind.
The experienced design department has developed countless custom made business websites over the years, developing custom features that you can add to your website such as website shopping carts to bring a convenient shopping experience to both the consumer and you, the company.
We also offer social media marketing and Content Management Systems (CMS) to help you control the flow of news and information on your website.
Not only do we provide services to clients everywhere, we also serve a variety of industries:
Residential Real Estate
Commercial Real Estate
Mortgage Companies
Wedding Photography
Portrait Photography
General Contractors
Event Planning
Home Improvement
Insurance Agents
Pet Breeders
Animal Trainers
Travel Agents
Tour Guides
Transportation & Limo Services
Air Conditioning & Heating Companies
Computer Sales & Repairs
Jewelry
Furniture
Graphic Design
Automotive Repair
DJs and Other Entertainers
Health and Beauty
Manufacturers
Florists
Online Stores
Lawyers
Many, Many more..
Next Level Web Design
The design and development team at Business Development Institute has one mission: to bring your business up to speed in the ever-evolving Internet world of marketing.
Development is moving constantly, every single day, the technology in website design evolves at a breakneck speed, and your company will need a design team that keeps itself on the cutting edge.
The team here has a passion for web development; we take pride in our work and in satisfying our clients with the highest quality websites available today.
Take the steps today to impress potential customers tomorrow, bringing a new level of exposure to your business through design and the other online services you may need.
Customer Testimonials
Check out what our clients are saying
C Hachenburg

I have been with Business Development Institute for almost a year and a half now and have been pleased with their services. They created my website for me quickly and offered many good suggestions in the process. I have had many compliments on my website and I've had leads generated from it that resulted in sales for me. The customer service has always been pleasant and helpful when I have had to call in with a question. I would definitely recommend this company for website development or SEO assistance.
Ellen E

Loved the final product and how the design specialist worked with me every step of the way. He even knew how to integrate my IDX perfectly so prospects don't even have to leave my page to find the info they need.
Joel R of R Steel Roofing

My previous impression of marketing companies was that they'd hastily put up any site with any keyword-loaded content. Not here—I have a great-looking website with well-written copy that represents my brand well. Great job to all!!
Annette E

The customer service team is top-notch and handles all my concerns, my custom marketing website was up in a timely manner, and I've had a better online presence than ever before!
Robert D

While I'm busy doing what I do best with my professional services, this is the team that helps me tap into potential online leads that I never would have had access to otherwise without me ever lifting a finger.
Gwen and Calvin C

My website has gotten more action since I've turned to this company. I'd recommend this to other people!
Steven W

Before coming to this company, I had no website, no social media, and no online advertising. Now, my site is sleek and professional, which has only improved the overall feel of my brand!
Sharon B

I'm pleased with the rankings and the work! I also got some revisions done without any hesitation, with my questions being answered!
Jay Morrison

I'm happy with the placements that I am receiving on the search engine sites. It really allows me to compete in a very competitive business and I am already getting contacted directly as a result of the search engine placements! It is helping me get my new real estate business off the ground.
Bob W

I'm pleased with their services. I've had strong placements on search engines and have had numerous clients referred to my business.
We Proudly Support These Worthwhile Organizations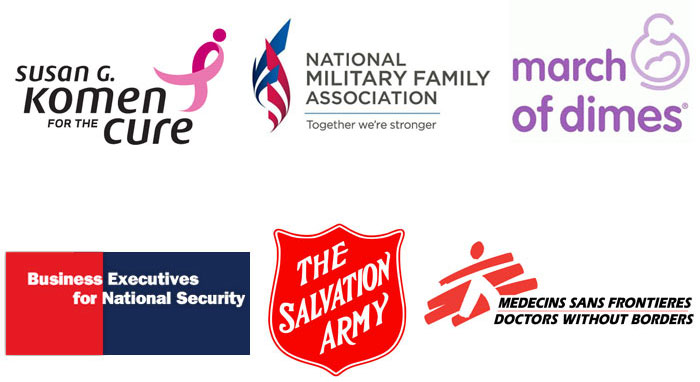 Contact Us Today!
Please fill out this brief form and a representative will contact you as soon as possible